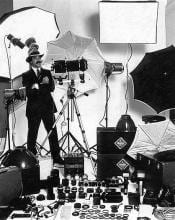 At the age of seven, I watched my father, a chemical engineer and photographer, develop a roll of 35mm Black & White. The sheer magic of the moment as he peeled the negatives off the stainless reel – changed my life forever. A good portion of my waking hours over the next 25 years were spent in the darkroom.
I  became an apprentice to N.Y. City industrial/commercial photographer, John Kronenberger in 1973. 1975 found me enrolled in the Rochester Institute of Technology (RIT), under the tutelage of Denver photographer Nile Root (Disciple of F64′s Minor White) and Filmmaker Martin Rennells. After graduating in 1978, I moved to Flagstaff, AZ and became chief cinematographer for KOAI, an NBC affiliate. Weekends found me all over Arizona and Utah photographing in 35 mm and 2 ¼.
Victoria Hospital-London,Canada-1975
In 1980 I took a job with the Sheriff's Department in Tucson, AZ, doing crime scene photography. From there I moved to Scottsdale, AZ to pursue my own ventures into fashion, commercial, and advertising photography, as well as documentary/instructional videography.
While on assignment in Iowa in 1984, I walked into "The Kitchen Restaurant" in Iowa City. A beautiful young woman asked, "May I help you?" I answered, "What's for lunch and are you married?" I spent the next few years commuting between Arizona and Iowa, finally marrying the restaurateur in 1989 and settling in Iowa City.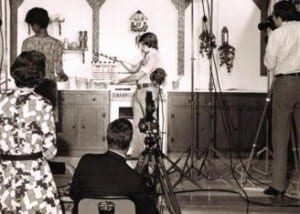 On the Set with "Virginia Slims" Model NY City 1974
I have become involved in many business ventures over the last 20 years, but continue to shoot 99% of my stills in digital format. I have laid down my 16mm Bolex for Digital Video and have traded the darkroom for a Digital Lightroom. I have an extensive client list and have had shows around the USA. My bags are always packed. The adventure continues…
Jonathan David Sabin, Photographer and Cinematographer