In today's densely-populated online landscape, it can be hard to differentiate yourself and get noticed on Google. Google's local business listing, Google My Business, can help, but many users are not utilizing it to its fullest. In this article, we'll highlight some ways to push your business to the top of the listings.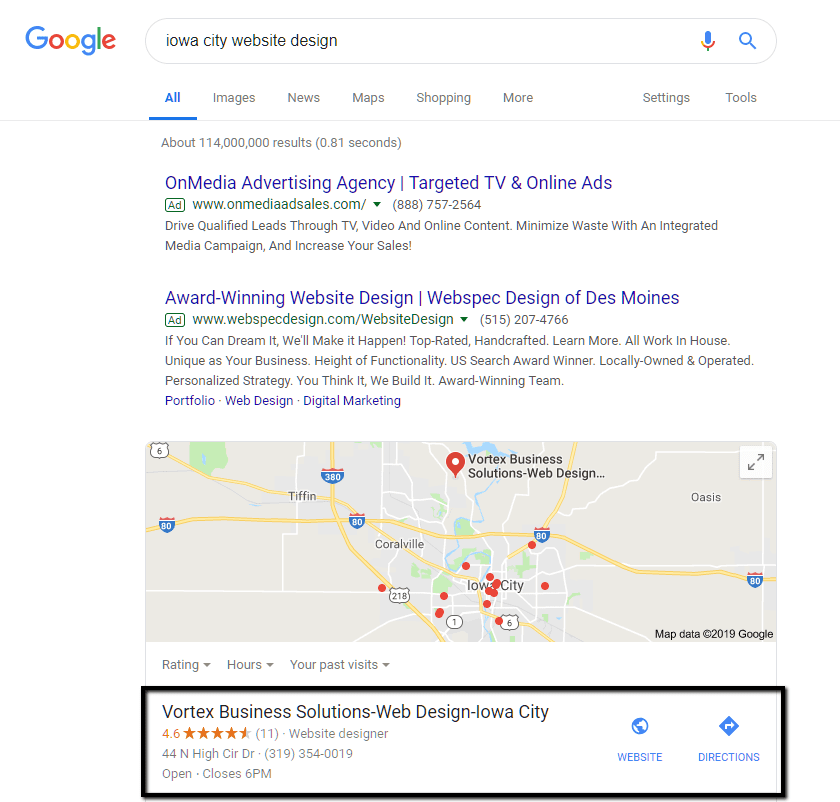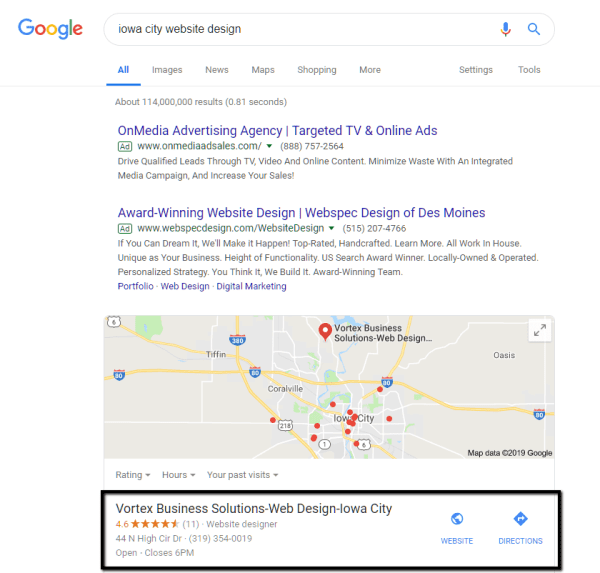 Google Reviews
Maintaining a positive reputation online is important for any business however, Google especially cares about reviews on its platform. How many stars your business has on its Google My Business page directly affects your organic ranking. Higher starred businesses will show up above other businesses, while lower starred businesses get a penalty. Also, users are more likely to click on the business that has a higher rating.
We've come across some clients that think it's fine to ignore reviews but, in today's environment this just isn't possible. So get out there and start getting those five star reviews!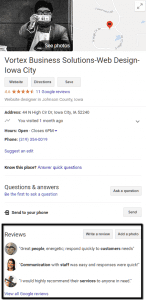 Embed Your Google Map
Google Maps lets you easily export an embeddable map with your business information on to your website and you definitely should. This allows Google to cross-reference your website with your Google My Business page, further establishing your business as reliable and legitimate in the eyes of Google. This then translates into a higher organic ranking.


This also helps users know where your business is located, and assures them that your business is local and right around the corner. Customers would rather deal with a business they know and can identify instead of a faceless chain. Your Google My Business map helps establish your business as local and more personal.
Use Your Local Phone Number
Using your local phone number is important as it further establishes your business' legitimacy and reinforces your local, personal identity.
Google prefers local phone numbers as it can cross-reference it with its data and confirm that your business is located where you say it is. And, as stated earlier, this translates into a higher organic ranking. 800 numbers are also used frequently for phishing scams and Google and its users know this and tend to avoid them.
Users are also more likely to call a phone number with an area code they recognize instead of a 800 number. With a local area code, they know there will be another human being waiting on the other line to help them instead of an automated customer service message.
The ultimate goal of your Google My Business page should be to establish yourself as a local, personal and reliable business both to Google and your potential customers.
Need assistance creating your Google My Business page?
Do you want to get more five star reviews but are unsure how to approach it?

Vortex Business Solutions offers Google My Business page creation and reputation management to help our clients gain and keep more customers.
Visit our website at www.VortexBusinessSolutions.com or
Call us at 319.354.0019 today for a free consultation.